Some basic information about BCM2.
What is BCM2 and in which cars does it occur?
BCM2 (Body comfort module), i.e. the comfort module, is the superior (main) immobilizer unit found in various models from the VAG group.
This controller manages access to the car, verifies the used keys and controls the electronic ELV steering lock.
BCM2 with IMMO5 occurs in:
Audi A4, S4, RS4 8K  2008 – 2016
Audi A5 , S5, RS5  2008-2016
Audi Q5, SQ5  -2017
Audi A6 4G 2011-2018
Audi A7, S7, RS7  -2018
Audi A8, S8 4H-2019
VW Touareg 2010- 2017
Lamborghini 2008-
BCM2 comes in several different hardware versions, but we mainly divide them into:
NOT LOCKED, i.e. those whose processor does not have a read lock. Used in 2008-2012
LOCKED, i.e. those whose processor has a read lock.
Keymaster PolDiag as the FIRST in the WORLD has developed a method for full reading of BCM2
in the LOCKED version.
POLDIAG SOLUTIONS
We have created a solution that safely reads and writes even the latest BCM2 versions from IMMO5.
In addition, it has a number of refined functions in the field of BCM2 and other IMMO5 elements in the VAG group
These include:
– Deactivation /of the faulty ELV steering lock by OBD
–Fixed error 02811 related to loss of synchronization and blocking of BCM2 after OBD
–Read VIN, CS, Power Class, keys, component protection from BCM2
–Clone FULL BCM2 unit as well as transfer only immo data to another controller (useful when retrofitting the car) also by OBD!
–Modification of data contained in BCM2
– Dealer key programming
–Key learning
–Read key eprom write.
One of the novelties that are already available is the possibility of adapting (matching) used IMMO5 elements by OBD.
This applies to the BCM2, ELV steering lock, Engine Control Unit or Transmission Control Unit.
Just type in the CS program window from the previous and current driver being replaced
and our device will do the rest adding it to the car.
The whole process is done by OBD!
Check our current offer
BCM2 locked NEC Multitool
BCM2 Locked NEC Multitool help easy prepare and learning DEALERKEY in ALL KEY LOST   SITUATION  for AUDI A4,  A5, Q5, SQ5, S4, S5, RS4, RS5, A6 ,A7, A8, R8, Touareg, Lambo
ALL BCM2 type!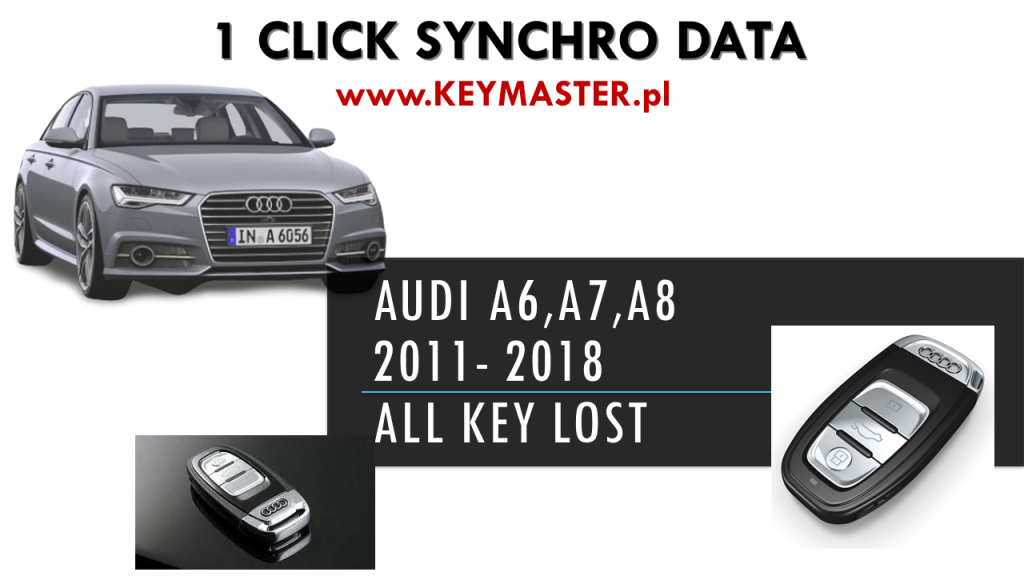 Example supported BCM2 :
8K0907064 KA 0711 , 8K0907064 KE 0711 , 8K0907064 KB 0711, KH, KR ,8K0907064 FD, 8K0907064GB, 8K0907064 GC, 8K0907064 GD, 8K0907064GM, 8K0907064 GE, 8K0907064 HF, 8K0907064HD, 8K0907064 HH, 8K0907064 HJ, 8K0907064 JE, 8K0907064 JD, 8K0907064 EG, 8K0907064EH and much more…NEC 3635 and NEC 3382 are also supported
4H0907064HN 812, 822, 825, 4H0907064AP, 4H0907064FP, 4H0907064HP, 4H0907064GP, 4H0907064JT, 4H0907064DN, 4H0907064CT, 4H0907064FN, 4H0907064GN , 4H0907064FH, 4H0907064AG, 4H0907064HB and much more…
IMPORTANT !!!!
AUDI A6 C7, A7, A8,Touareg 2010+  ALL KEY LOST –
ADDITIONAL
ACTION REQUIRED!
Please note that models such as the Audi A6 C7 ,A7,A8 to prepare the DEALER KEY when ALL KEY ARE LOST  additionally require additional data called "
SYNCHRO data

"
How to get synchro data for Audi A6,A7,A8?
Read data from BCM2 with our device.
Click "Synchro data order" you will be redirected to the store where you should make the payment by specifying the VIN of the car for which you need "synchro data".
After about 30 minutes you you can execute preparing dealer key with ur device … The server will automatically find the data you ordered and prepare the dealer key with necessary synchro.
Last step is KEY LEARNING direct in CAR
DONE.