We are pleased to announce the introduction of new features for our users.
BENCH MED EDC17
READ/WRITE FULL data from MEDC17 ECUs without OPENING
Read,write

MAPS

Automatic CRC calculation for INTERNAL/EXTERNAL FLASH
Automatic CRC for EPROM
VAG IMMO DATA Decoder/Viewer
Automatic Cloning FUNCTION for VAG. Also for ECUs with OTP sectors.
1.HARDWARE:
To operate

the

BENCH you need our Programmer (the same as in the MB kits), OBD INTERFACE (also the same) and a NEW TYPE POWER ADAPTER

Picture below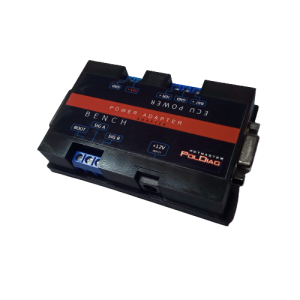 This power adapter is from 02/03/2021 in the standard equipment of sets for MB STANDARD, MAXIMB and FULL because it is also used to power e.g. EZS and in the future it will also be used as a power supply in the "boot" mode.
People who have the old version of the POWER ADAPTER must purchase a new one according to the scheme:
–100Euro when returning the old power adapter
–140Euro when we do not have and we do not return the old. 
CONDITION. To use the cheaper option, please send the old one back FIRST. Only after receiving the old one, we can send the new version at a lower price. The shipping cost is 10 Euro and must be added to the price.
2. SOFTWARE and Activation of the BENCH functions.
People with the PROGRAMMER,OBD INTERFACE and NEW POWER ADAPTER devices must purchase activation for 350 EUR once.
NOTE – If you have a current MB subscription and buy BENCH, you get the right to a FREE MEDC17 CLONING functions and to the immo data DECODER/VIEWER. WARNING –It is required to have both ECUS physically on the table. (as is the case with PCR2.1) to get this free.
If you need to clone "on files", this option will be available for 1 TOKEN = 15 euros.
3.NEW USERS and BENCH KIT.

Persons who do not have our devices interested in BENCH will have to purchase a BENCH KIT.  It consists of INTERFACE OBD, PROGRAMMER ,NEW POWER ADAPTER and activation.
The price of such a set at the moment is 1000 euros.  NOTE – This kit will consist of devices necessary for MEDC17. And it will have NO OTHER functions active except BENCH MEDC17.
The license for the first year is free. After this time, to use the free cloning function, you must pay a subscription of 200 EUR / year
4. PROTOCOLS – Coverage / list of currently supported ECUs
We currently have 90% of VAG, MB and several other brands.
List every day enlarges and will be replenished with each update. NOTE – If there is no ECU on the list, please contact me because it is probably supported but is not on the list. Then we will tell you how to do the procedure.
After ur work on BENCH is finished, we will introduce an additional free function for VAG called "ECU adaptation" to quickly and easily learn the ECU with a single button.