BCM2 with LOCKED /ENCRYPTED NEC IMMO Data Extractor.
ALL KEY LOST AUDI A6 2017
SYNCHRO DATA AUDI
All KEY LOST AUDI A8 2017
Synchronization data Audi
ALL KEY LOST AUDI 2016
AKL Audi A7
AKL Audi A8
ALL KEY LOST AUDI A4 2016
Read immo data from all 8K0 and 4H0 BCM2. 2008-2018
1,499.00 €
8 in stock
Description
BCM2 LOCKED / ENCRYPTED NEC SET1
+ access to special support group!
READ/EXTRACT/DECODE/REPAIR DATA FROM BCM2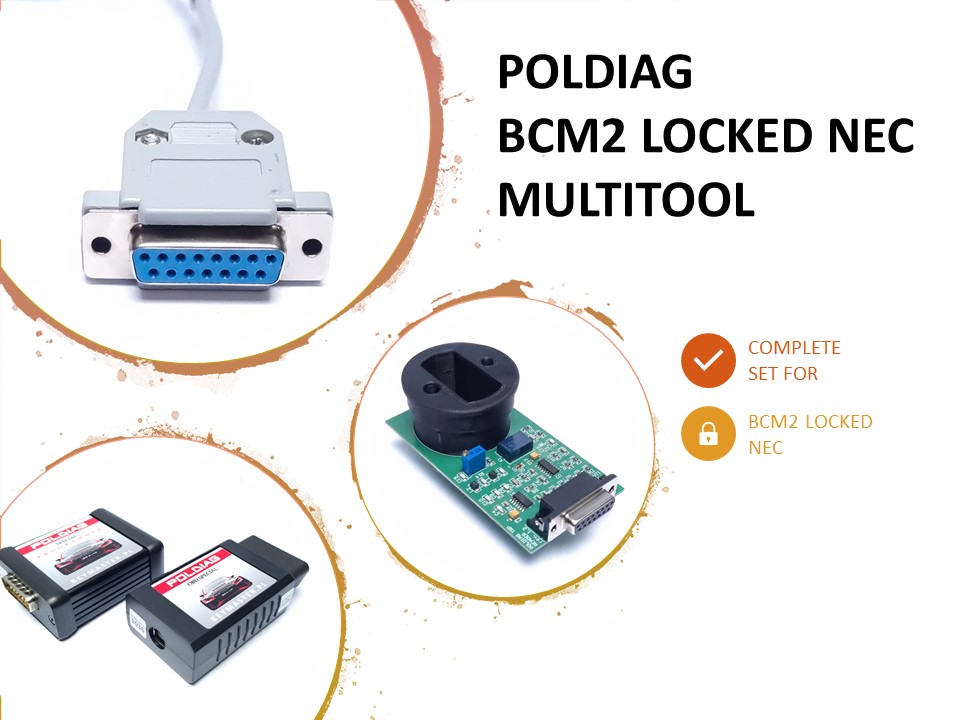 BCM2 LOCKED / ENCRYPTED NEC SET1 
CONTENT
ALL WHAT YOU NEED FOR BCM2:
PolDiag SPECIAL PROGRAMMER
PolDiag SPECIAL OBD INTERFACE
PolDiag ADAPTER CABLE FOR READ BCM2 ON THE BENCH.
HOW IT WORkS ?
READ/EXTRACT/DECODE IMMO DATA FROM BCM2
BENCH READ,EXTRACT IMMO DATA FROM BCM2 with ENCRYPTED/LOCKED NEC (2012-2018) No Need working key! (

LIFE TIME VALID – NO NEED SUBSCRIPTION

)
ALL AUDI ,LAMBORGHINI ,VW WITH BCM2 IMMO5 SYSTEM + TOUAREG 2010+

READ/EXTRACT/DECODE IMMO DATA FROM BCM2  2008-2018

by OBD

(with working key) or bench.
DECODE IMMO DATA COMPONENT SECURITY, MAC, PIN, VIN, KEYS, ELV STATUS.

REPAIR BCM2 with 02811 ERROR FOR FREE!

DEALER KEY PREPARING. KEYS STATUS CHECKING
KEY LEARNING
1 CLICK SYNCHRO DATA for A6, A7, A8,R8,Touareg – order synchronization data with 1 button (additional paymant requierd)
ALL KEY LOST AUDI A8 D4 all years.
ALL KEY LOST A4 ,A5, Q5 2008-2017
CLONE BCM2 by OBD or BENCH
SUPPORT ALSO BCM2 WITH SW 822,825,827
Additional functions with working key:
CLONE BCM2 BY OBD. (2008-2018) – No other tool support this function!

CLONE / TRANSFER BCM2 IMMO DATA

– EXAMPLE BY RETROFITING 
CLONE BCM2 on BENCH ( 2008-up)
RESTORE PARAMETIZATION ODX
ADD KEY BY OBD ALL MODELS 2008-2018 (except bcm2 sw711 that need be on bench)
ELV OFF BY OBD! A4,A5,A6,A7,Q5, ( ONLY CARS WITH AUTOMATIC TRANSMISION)
REPAIR  BCM2 ERRORS by OBD ( errors like steering defective do not drive,no ignition,bcm2 fault)
CHECK BCM2 – ELV SYNCRONIZATION STATUS.
ALARM OFF/ON
READ FULL MEMORY (PFLASH and DFLASH) with PROGRAMMER SECTION
READ/WRITE BCM2 with SW 800+ ( 1 MB PFLASH+ DFLASH)
IMMO 5 OBD PARTS ADAPTATION! SUPPORT ELV,ENGINE ECU,TCM OBD IMMO SYNCRONIZATION/ADAPTATION.
Some functions like IMMO PART ADAPTATIONS, LOCKED BCM2 CLONING,ELV OFF, FIX ERRORS BCM2

REQUIRED ACTIVE SUBSCRIPTION
If you have any additional questions use WhatsApp

0048 697 995 991
BCM2 LOCKED / ENCRYPTED NEC SET1 FULL
SYNCHRONIZATION DATA for ALL KEY LOST Audi A6 C7, A7, A8 D4
How to get synchro data for Audi A6,A7,A8,R8?
Read data from BCM2 with our device.
Go to ur shop and order this product https://keymaster.pl/shop/sync-data-for-a6a7a8/     (price 120 euro)with specifying the VIN of the car for which you need "sync data".
After about 30-240 minutes you you can execute preparing dealer key with ur device … The server will automatically find the data you ordered and prepare the dealer key with necessary sync.
Last step is KEY LEARNING direct in CAR
DONE.
BCM2 LOCKED / ENCRYPTED NEC SET1 FULL can be further extended with other licenses. for example:
CLUSTER A6 C7, A7, A8 D4 ,Touareg 2010+ by OBD (Read,change mileage,transfer CP,repair DEF)*
Mercedes ECU RENEW
MEDC17 BENCH ECU LICENSE
and much more… CLICK to see possible LICENSES